Are you a utility concession holder?
Are you a utility concession holder? Whether it's gas, hydrocarbons, electricity or heating, sewers or stormwater drains, fibre optics/telecom cables, road sign cables or street lighting: we know what's involved.
We mobilise all our areas of expertise so that you can be in in full control of your networks, able to secure them, and also optimise the re-use of materials extracted to lay or replace your pipes or cables.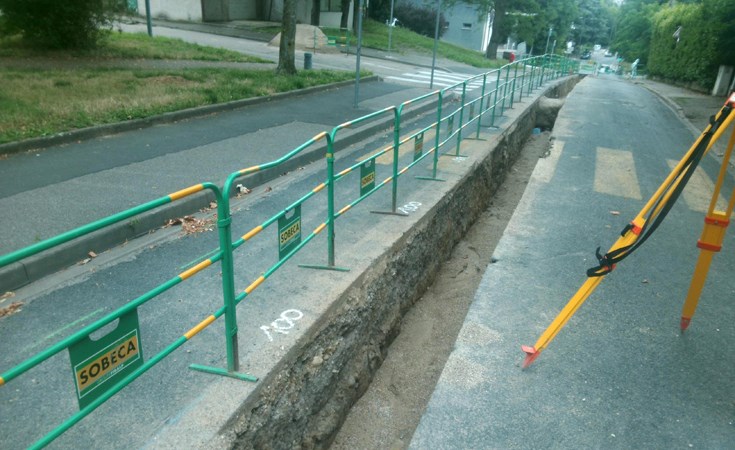 Your engineering consultancy partner
Support from expert in multiple fields
Turn-key projects
Mobilisation of our specialist know-how and technical experts, where necessary
Monitoring changes in regulations
Coordination of the different stages of the project: detection of subsurface utilities, geotechnical surveys, works
We think "advice" and "optimisation"
We put forward proposals on the techniques used depending on the type of utility
Optimisation of the solutions proposed, including solutions for re-using materials
Support if water or pollution detected
Control of the planning/risks/technical solutions/costs equation
We are responsive
Adherence to our schedules
We listen to your imperatives
Adaptability to changes in the project, as involved as you are
Our mission: to enable you to secure and optimise your utility networks
Earthworks solutions
Need for sheeting
Re-use of materials
Identification of the subsurface hazards (cavities, remains, geological particularities, etc.) by non-destructive methods
Study of characteristics levels
Pumping rates
Preliminary study before characterising the underground environment
If pollution confirmed, comprehensive support: management plan, assessment of the health risks, monitoring of decontamination work, regulatory certificates (ATTES)
Most recent projects | Utility concession holders